SMARTMONITOR : THE REMOTE MANAGEMENT AGENT
The ideal solution for the maintenance and support of your IT equipment. SmartMonitor allows us to troubleshoot and manage your PCs, printers and switches, regardless of their location. We quickly access endpoints without disrupting users to proactively resolve issues. We manage all client devices for problem resolution, reporting, incident resolution and compliance.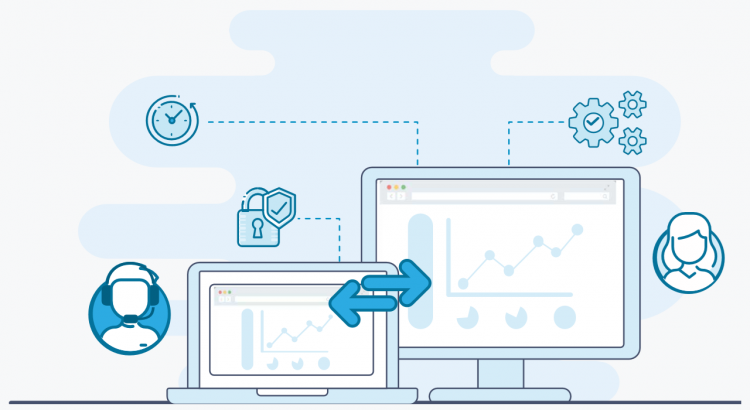 Continuous inventory of your IT infrastructure and all network elements.
Overall time optimization by automating your common processes.
A premium and proactive support solution for your users and your environment.
Continuous management of your infrastructures with a customer interface that can be delegated to you.
Automation of security updates and patches for your entire IT infrastructure.
Automatic detection of new devices to be updated and integrated into the management plan.
Reduce your IT operational costs thanks to a single complete IT management tool.
Manage and secure remote patching automation regardless of the location of your devices.
WHAT ARE THE
OF HAVING SMARTMONITOR ?
THE FEATURES OF REMOTE ADMINISTRATION
THE MONITORING SOLUTION FOR YOUR SERVERS
SmartMonitor can also be used as a management console to monitor the status of your servers. Whether they are hosted in a Private Cloud or on your OnPremise infrastructure, we can assist you with the installation and configuration of the solution. A multitude of alerts can be configured on your Windows or Linux servers to monitor most known services.
If required, the following technologies are also supported to query custom services.
SNMP, WMI, Windows Performance Counters, SSH, HTTP, REST APIs returning XML or JSON, Ping, SQL, and more...
Create your own dashboards
View the status of your environment and all your services in real time via a page you can create yourself. Integrate your graphics, the status of your servers and their performance. Customise the interface using an HTML editor. You can also share your dashboard internally and externally via a publicly accessible link.
Set up your alerts
The solution automatically alerts you when it detects an anomaly or an unusual threshold change. It is possible to configure different notification systems such as email, push or HTTP alerts. Via a mobile application (Android and iOS), you also have the possibility to receive push notifications directly on your phone.
OUR SUPPORT PLAN WITH SMARTMONITOR
With SmartMonitor, take advantage of our flat rate support - the maintenance contract (CDM)

You would like to know more about the solution or get a quote ? Fill in the form below. Our team will get back to you as soon as possible.