SmartMonitor: L'agent de gestion à distance
La solution idéale pour la maintenance et le support de votre parc informatique. SmartMonitor nous permet de dépanner et de gérer vos PC, imprimantes et switchs, quel que soit leur emplacement. Nous accédons rapidement aux points d'extrémité sans perturber les utilisateurs afin de résoudre les problèmes de manière proactive. Nous gérons tous les appareils clients pour la résolution des problèmes, la création de rapports, la résolution des incidents et la conformité.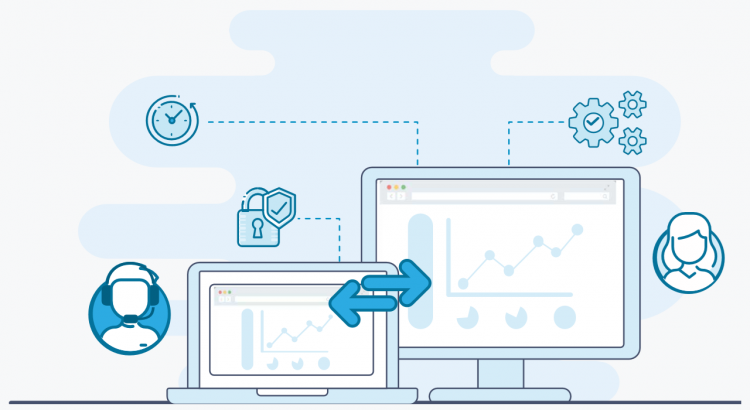 Continuous inventory of your IT infrastructure and all network elements.
All-around time optimization by automating your common processes.
A premium and proactive support solution for your end users.
Continuous management of your infrastructures with a customer interface that can be delegated to you.
Automatic detection of updates and security patches management for your entire IT infrastructure.
Automatic detection of new devices to update and add to the management plan.
Reduction in IT operational costs thanks to a single complete IT management tool.
Securely manage à distance l'automatisation des correctifs quelle que soit la localisation de vos appareils.
QUELLES SONT LES
D'AVOIR SMARTMONITOR?
LES FONCTIONNALITÉS D'ADMINISTRATION À DISTANCE
Informations générales
En une seule fenêtre, visualisez l'ensemble des informations clés du poste que vous contrôlez
Explorateur Windows
Accédez aux fichiers du poste et récupérez les logs qu'il vous faut
Services Explorer
Accédez et gérez les services sur le poste à distance
Processes Explorer
Analysez et supprimez les processus inutiles en cours d'exécution
Registre Explorer
Naviguez dans le registre Windows et effectuez les modifications dont vous souhaitez
Events Explorer
Parcourez l'ensemble des logs Windows sans déranger l'utilisateur
Commands
Lancez des commandes via le CMD ou un console PowerShell
LA SOLUTION DE MONITORING POUR VOS SERVEURS
SmartMonitor peut également se décliner sous la forme d'une console de management afin de monitorer l'état de vos serveurs. Qu'ils soient hébergés dans un Cloud Privé ou sur votre infrastructure OnPremise, nous pouvons vous accompagner pour l'installation ainsi que la configuration de la solution. Une multitude d'alertes peuvent être configurées sur vos serveurs Windows ou Linux afin de monitorer la plus part des services connus.
Si besoin, les technologies suivantes sont également supportées afin d'interroger des services personnalisés.
SNMP, WMI, Windows Performance Counters, SSH, HTTP, REST APIs returning XML or JSON, Ping, SQL, et plus encore…
Créez vos propres dashboards
Visualisez l'état de votre environnement et l'ensemble de vos services en temps réel via une page que vous pouvez créer vous-même. Intégrez vos graphiques, l'état de vos serveurs et de leurs performances. Personnalisez l'interface à l'aide d'un éditeur HTML. Vous avez également la possibilité de partager votre dashboard en interne comme en externe via un lien accessible publiquement.
Configurez vos alertes
La solution vous alerte automatiquement lorsqu'elle détecte une anomalie ou un changement de seuil inhabituel. Il est possible de configurer différents systèmes de notifications comme les alertes par mail, push ou HTTP. Via une application mobile (Android et iOS), vous avez également la possibilité de recevoir des notifications push directement sur votre téléphone. 
OUR SUPPORT PLAN WITH SMARTMONITOR
Grâce à SmartMonitor, profitez de notre support forfaitaire – le contrat de maintenance (CDM)

Vous souhaitez en savoir plus sur la solution ou obtenir un devis ? Remplissez le formulaire ci-dessous. Notre équipe reviendra vers vous dans les meilleures délais.