Cisco - The network performance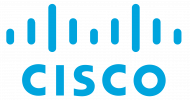 Network performance is a crucial point in an infrastructure. All the data passes through these devices. If a problem occurs at this level, the entire infrastructure and performance are impacted. It is therefore important to choose resilient, stable and high-performance hardware for our infrastructure.
Cisco is the world leader in this field, so it is only natural that Syselcom chose this partner.
WHY DID WE CHOOSE CISCO ?
CISCO's versatile Swtiches offer the flexibility to meet the demanding interconnection needs of our datacenters. The numerous possibilities of 1, 10, 25, 40, 50 or 100Gigabit Ethernet transmission speed, port capacity and transmission media (fibre or copper) are essential to adapt perfectly to our needs and thus ensure an optimal quality service with a minimum of components.
Extremely reliable and redundant, it is possible to double the equipment to ensure fault tolerance without increasing the complexity of management or configuration.
We have acquired a strong expertise in the use and configuration of these switches which allows us to perfectly master the configuration, management and monitoring of the equipment. Thanks to the tools provided by CISCO, it is possible to monitor and control bandwidth usage in real time and thus anticipate possible problems and better plan the purchase of new equipment.
The bandwidth requirements for applications and data volumes are constantly increasing. With CISCO, it is very easy to add equipment and to evolve the network infrastructure by simply adding equipment without any migration or service interruption.
Every year, Cisco invests more than $5 billion in research and development and proves once again its ability to anticipate market transitions and constantly evolve.