Veeam Software is a leading developer of backup, and Business Continuity for virtualized environments such as VMware and Hyper-V. Veeam Software has over 4,000 employees and 35 subsidiaries worldwide. It is headquartered in Baar, Switzerland.
Veeam has partnership agreements with NetApp, Microsoft, Cisco, Hewlett-Packard, VMware and ExaGrid.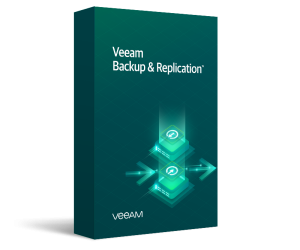 Your data is critical to the operation of your business. Avoiding data loss and keeping costs under control are top priorities, but balancing these two objectives can be a major challenge. The accelerating transition of workloads to multi-cloud ecosystems and the widespread use of remote working would make data harder to manage and more difficult to control than ever.
You need a single, effective solution to provide comprehensive management of your data. That solution must be powerful and flexible enough to protect all phases of an ever-changing data lifecycle, and secure enough to counter current and future cyber threats. Is your backup solution ready for the task ?
VEEAM BACKUP & REPLICATION
Veeam Backup & Replication is ready to take on next-generation operational challenges head on with a comprehensive set of data protection features designed for large companies ! Powerful, efficient and easy to use, Veeam reduces operational overhead and scales to your business with flexibility. You can count on it to be the most reliable in the industry !
Veeam Backup & Replication provides rock-solid availability for all Cloud, virtual and physical workloads with a simple, flexible and reliable solution. Regardless of location or workload type, you can protect your data with powerful backup and instant recovery options.
Veeam Cloud Connect Backup
With Veeam, move your offsite physical and virtual backups to the Cloud without the costly and complex implementation and maintenance of a Cloud infrastructure. Veeam Cloud Connect Backup provides a fully integrated, fast and secure solution for backing up your data to a service provider's Cloud target. Simply configure your backups and direct backup or replication tasks to the Cloud. Backing up to the Cloud has never been easier !
Veeam Cloud Connect presents remote backup directories directly in the Veeam console. The customer can then simply choose the destination for their various backup jobs.
No need for a VPN, no need for a dedicated console ! Remote directories behave in the same way as local directories, and are available even when the primary backup or the primary site is lost.
The powerful and reliable features of Veeam Cloud Connect Backup
help you prevent the risk of catastrophic data loss leading to
disastrous consequences :
Hosted offsite backups : route your physical and virtual backups offsite to a hosted Cloud target, via a secure SSL connection, with no additional Veeam licensing required.
Complete visibility and control : access and restore data on hosted backup targets directly from the backup console, monitor your Cloud space usage, and receive reminders to renew external storage.
State-of-the-art backup architecture : leverage Veeam technology such as backup copy jobs with built-in WAN acceleration, continuous incremental backups, GFS (grandfather/father/son) retention policies, and more - all within a single solution.
End-to-end encryption : gain peace of mind by encrypting all your data at the source (before it leaves your network perimeter), in transit, and at the target, without impacting the data reduction ratios achieved by built-in compression and WAN acceleration.