HYPER-V - VIRTUALIZATION BY MICROSOFT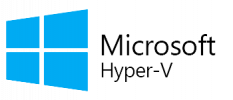 Syselcom has chosen Hyper-V technology to provide a server virtualisation service. Our datacenters have multiple Hyper-V servers clustered together and currently host over 1000 virtual servers.
WHY DID WE CHOOSE HYPER-V ?
We chose Hyper-V for several key criteria : scalability, ease of management, flexibility and cost.
The number of virtual servers we host in our datacenters is constantly increasing, as is the demand for resources. Hyper-V allows us to easily create virtual servers when we need them, thus increasing resources on demand. So if we need additional resources in our Hyper-V cluster, we can easily add more servers when demand is high !
As a Microsoft technology, Hyper-V is highly integrated with the various management tools developed by Microsoft. In addition, it is extremely closely linked to the Windows Server operating system that makes up the majority of our hosted machines.
As a virtualisation technology, Hyper-V allows us to optimally scale your servers. With no physical constraints on the resources allocated, we can increase or decrease resources (CPU, RAM and disk space) as needed. This reduces the cost of managing servers and does not require the renewal or addition of hardware to a physical server. In addition to the advantages of virtualisation, Hyper-V is very cheap compared to other virtualisation tools. This allows us to offer attractive prices for your hosting !
Windows Azure Pack (WAP) allows system administrators to retain a certain amount of autonomy over the management of their various virtual machines.
Via a simple web interface accessible from anywhere, you can easily access a management console for your private environment and monitor the resources consumed by your VMs.
It is also possible to perform a number of actions from the Azure Pack :
Connect in console mode
Complete shutdown of environments and reboot

Create and delete restore points

Attachment of an ISO file
Checking consumed resources