Azure Stack Hub is a solution from Microsoft's Azure Stack portfolio that uses Azure technologies to run your applications, IaaS services and store your data in your local environment or in a datacenter located wherever you want with the same user experience as Azure Public.
The Public Cloud is very useful for creating modern architectures and having all applications up to date with minimal management, but some tasks must remain local, either for technical or legal reasons. Thanks to Azure Stack Hub you can perfectly meet this need while keeping your Cloud strategy.
Azure Stack Hub is a hyper-converged virtualisation solution with a management software layer that allows you to create and manage your workloads in a simple and graphical way without the need for extensive IT knowledge.
The graphical management interface is exactly the same as the public Azure interface. So you don't need to learn anything new if you are already an Azure user. You will find the Azure Marketplace adapted for Azure Stack Hub to deploy your virtual servers, databases, containers or web applications extremely quickly. The major solution providers have also packaged their applications and you will find many of them in the Azure Stack Hub marketplace.
In order to provide all these services, you need physical hardware. Azure Stack Hub therefore consists of servers with powerful processors (compute), internal storage and network switches. Like a hyperconverged solution, all this equipment is grouped together in servers interconnected in a computer cabinet in the same way as a hyperconverged solution. Your virtual servers and applications run on hypervisors that are powered by Microsoft Hyper-V, Storage Space Direct and Software Defined Network (SDN) technology.
Pre-installed and fully managed automatically, other virtual servers run on these same hypervisors to configure and maintain all the equipment and provide the web-based management interface of the Azure Stack Hub.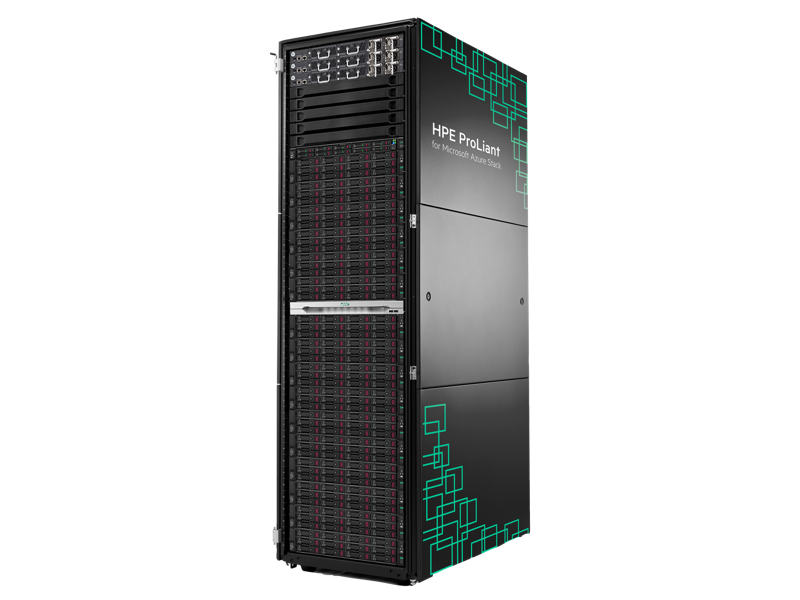 WHAT IS THE DIFFERENCE BETWEEN AZURE STACK HUB AND AZURE
Azure Stack Hub is a real extension of Azure Public and provides the same services. This solution is the closest to the public version and the features of Azure Public are almost all available in Azure Stack Hub. In terms of architecture it is identical except for the equipment that changes and of course the localisation that becomes perfectly mastered. In terms of functionality, management is the same. There are a few differences in terms of the marketplace which is adapted to Azure Stack Hub and also in terms of PaaS/SaaS services.
OTHER AZURE STACK MODELS : HCI
Azure Stack HCI is a hyperconverged infrastructure solution from Microsoft delivered in the form of a "black box". Composed of one or more servers comparable to those of Azure Stack Hub and also working with Hyper-V and Storage Space Direct, the network part is not provided.
In terms of management, there is no dedicated Azure portal. Since this model is also intended to be part of a hybrid strategy, you can administer and manage your Azure Stack HCI directly from the Azure Public portal. However, you also have the option of doing so from Windows Admin Center locally.
Fully integrated with Azure, this solution allows you to benefit from the features of the Azure Public Cloud and to take advantage of updates and security patches as soon as they become available. The advantage is also that you can connect to Azure services such as "Azure Site Recovery", "Azure Backup", or "Azure Monitoring" for example.
This solution will allow you, for example, to host your various workloads requiring low latency or controlled data residency, all while being connected to your resources on Azure.
OTHER AZURE STACK MODELS : EDGE
This is a physical device sent by Microsoft. Ordering and delivery is organised directly from your Azure Public portal. There are several models depending on the resources and usage you need.
A classic model like the "Pro" that you can mount in a computer rack, a "Pro R" model equipped with a transportable box for remote sites or even a "Mini R" model that runs on batteries and fits in a backpack.
Azure Stack Edge allows you to leverage some of the features of the Azure Cloud in your datacenter or even in the field. This can greatly speed up information processing, facilitate a transition to the cloud, or perform resource-intensive tasks while offline.