SyselCloud has received several certifications
In order to achieve the service qualities defined for SyselCloud solutions, all of our teams focus on the transparency of our activities, security, traceability and reliability of the services we deliver on a daily basis.
This is why we strive to achieve the highest possible levels of security and protection. To this end, all SyselCloud operations have received the following certifications :
La confidentialitÉ de vos donnÉes : iso/iec 27001 : 2017
Syselcom Mutuelle Informatique SA guarantees maximum security to its customers.Thanks to our ISO/IEC 27001 certificate, our company, specialized in data and computer applications hosting, demonstrates that it meets all the international standard requirements. This certificate confirms Syselcom Mutuelle Informatique SA's excellence and commitment in its services when it comes to data confidentiality and security.
Data protection and security
The ISO 27001 standard dictates the requirements for the implementation of an Information Security Management System. It provides for the integration of tools for a relevant risk assessment and the integration of systematic controls. Cette norme internationale a été publiée en 2005 puis révisée en 2013 et 2017. Elle a pour objectif d'établir, de manière formelle, la protection de l'information contre toute perte, vol ou altération, et de préserver les systèmes informatiques de toute intrusion.

Our priority is SÉCURITÉ :
The ISO 27001 : 2017 guarantees :
YOUR DATA IN SWITZERLAND : SWISS LABEL
Syselcom Mutuelle Informatique SA guarantees the "Made in Switzerland" of its IT managed solutions and services. As a marker of reliability, safety, but above all, quality, Syselcom Mutuelle Informatique SA holds the SWISS LABEL certification. This label aims to promote products and services attesting to the Made in Switzerland excellence. Swiss Label supports the commercialization of products and services whose origin and quality are certified Swiss.
100% Swiss solutions, hosted in Switzerland, for Swiss SMEs
Swiss Label strengthens the prestige of the Swiss economy and supports marketing of certified quality products and services originating from Switzerland. Inside and outside Switzerland, Swiss Label promotes Switzerland's strong identity as an important, internationally active, export country. Swiss Label, clearly depicted as a crossbow, becomes a class label on the market, incorporating a high degree of identification for Swiss quality products : a symbol of Swiss precision work.
Syselcom complies to this standard :
Guarantees and conditions
Netapp : performance through efficient storage
NetApp, Inc. is a company that is specialized in data and storage management. Its innovative products help companies manage, protect and secure data so it can be accessed at anytime, from anywhere. NetApp has been providing revolutionary solutions since 1993, when the company launched the first network-attached storage system in the world.
With a goal of constantly evolving our level of service and expertise, our technical teams are continually trained as NetApp Partner Sales Professionals (NPSP) and NetApp Partner Systems Engineer Professionals (NPSEP), all certified through the NetApp Academy's Advanced Certifications (NCDA) program.
The excellence of your backups : VEEAM
Veeam Software is a company specialized in developing software for backup and business continuity in virtualized environments such as VMware and Hyper-V.
In order to offer you the best possible virtualization services, our technical teams followed a program to obtain Veeam Technical Sales Professional (VMTSP) and Veeam Sales Professional (VMSP) certifications.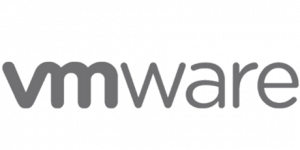 VMware allows users to securely virtualize their applications, redefine availability requirements and simplify virtual datacenter management.

The result : a highly available and reliable on-demand infrastructure that forms the ideal foundation for any Cloud Computing environment.

In order to give you access to the best technologies, several of our employees successfully completed some of VMware's certifications.
Microsoft is a company specialised in the development of operating systems, software and related hardware products. It is the leader in its field with more than 90% of the market share in the world.

Our technical teams have passed various certifications in the Microsoft world such as Windows Server, Office 365 and Azure in order to best support our customers in their various IT needs.