WHAT IS THE HYBRID CLOUD ?
Le Cloud Hybride regroupe le Public Cloud, Private Cloud et vos infrastructures locales, couramment appelée « on-premise », afin de réaliser un environnement homogène réunissant vos ressources de calcul, stockage and services applicatifs. Plusieurs technologies et environnements peuvent former un Cloud Hybride : un Cloud Public, un Cloud Privé dédié à votre entreprise, un Cloud Privé hébergé chez un fournisseur comme SyselCloud ou encore une infrastructure traditionnelle sur place dans vos locaux. La composition of a Hybrid Cloud can take different forms but should en principe comporter au moins deux environnements interconnectés, que ce soit un Cloud public, un Cloud privé ou une infrastructure on-premise.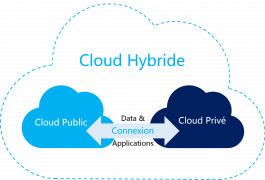 WHAT ARE THE
WHO COMPOSES A HYBRID CLOUD ?
Several technologies and environments can form a Hybrid Cloud : a Public Cloud, a Private Cloud dedicated to your company, a Private Cloud hosted by a provider such as SyselCloud or a traditional infrastructure on your premise commonly called "on-premise".
The composition of a Hybrid Cloud can take different forms but should always include 2 interconnected environments :
WHY CHOOSE AZURE STACK TO OPERATE THE HYBRID CLOUD ?
Choosing Azure Stack by SyselCloud coupled with other SyselCloud private solutions allows you to operate your own Hybrid Cloud to suit your needs. Our Azure Stack HUB tightly links your public Azure services and your private SyselCloud services by providing an extension of your Azure tenant in our secured data centers exclusively in Switzerland.
Azure Stack is considered as a leader in the Hybrid Cloud market in terms of orchestration, replication, backup, performance and security. This technology combines two types of Clouds in one environment and offers a fully integrated experience.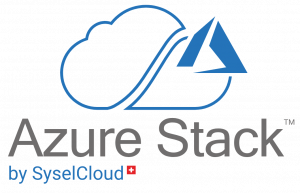 WHAT ARE THE
OF MOVING TO THE HYBRID CLOUD ?
SUIVRE ET RESPECTER LA CROISSANCE DE VOTRE ENTREPRISE
The Hybrid Cloud offers the best of both worlds by adapting to the growth and needs of your business. Take advantage of service availability (access to new features) and scalable performance (increased resources) while maintaining control over your sensitive applications and data.
The main strength of a Hybrid Cloud is flexibility. Your company can combine different types of Clouds and on-premises infrastructures to gain the flexibility needed for a competitive advantage. Likewise, a company with a high level of activity on its local infrastructure can call on the power of the Public Cloud to absorb the surplus and lighten the internal structure.
OPTIMISE YOUR COST MANAGEMENT
In addition, with the Hybrid Cloud, you can save on the purchase, installation and maintenance of new servers by moving your data to the Cloud.
Flexibility
With the Hybrid Cloud, you can take advantage of a variety of resources, platforms and locations at a cost that fits your company's IT budget.
Access to advanced technologies
With the Public or Private Cloud, you can leverage technologies that are complex or expensive to implement on-premise.
Security and disponibility
If one of your Clouds is unavailable, you can always switch to another Cloud and reduce the downtime of your services.
Load and demand
Use the Private Cloud for your day-to-day application data and use the Public Cloud for additional computing resources during a temporary increase in load.
Potential savings
Having a dedicated Private Cloud or a local on-premise infrastructure is often expensive and requires a lot of maintenance. Move some of your operations to a Public Cloud or Private Cloud operator to reduce your costs.
Control the location of your data
By opting for the Hybrid Cloud, you don't have to worry about security aspects. Keep and maintain control of your sensitive data in a Private Cloud as if you were storing it locally and move your other data to a Public Cloud.
SOME
OF HYBRID CLOUD APPLICATIONS
You would like to know more about the solution or get a quote ? Fill in the form below. Our team will get back to you as soon as possible.