WHAT CAN AZURE STACK BY SYSELCLOUD DO FOR YOU ?
Choosing Azure Stack by SyselCloud coupled with other SyselCloud private solutions allows you to operate your own Hybrid Cloud to suit your needs. Our Azure Stack HUB tightly links your public Azure services and your private SyselCloud services by providing an extension of your Azure tenant in our secured data centers exclusively in Switzerland.
Azure Stack is considered as a leader in the Hybrid Cloud market in terms of orchestration, replication, backup, performance and security. This technology combines two types of clouds in one environment and offers a fully integrated experience.
As a Tier 1 CSP partner and reseller of Microsoft Azure Public services, Azure Stack Hub By SyselCloud is proving to be the best way to operate a Hybrid Cloud. That's why, in partnership with HPE, SyselCloud acquired an Azure Stack HUB unit in 2019 to expand its range of services. Hosted in our datacenters exclusively in Switzerland, this unit is shared between our customers in a perfectly secure and isolated manner. You benefit from all the experience of the Azure interface and solutions while having your data optimally secured.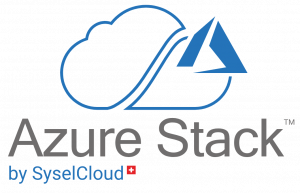 WHY NOT HAVE YOUR OWN AZURE STACK ON YOUR PERMISE !
If you prefer to have your own Azure Stack Hub rather than subscribe to the Azure Stack by SyselCloud hosting service, it is possible to acquire your own Azure Stack Hub rack in your premise and datacenter.
We can analyse your needs and help you with the design and choice of equipment between the various certified manufacturers (HPE, Dell, Lenovo, etc.)
We can assist you in the installation and integration of your Azure Stack Hub into your network and your Hybrid Cloud strategy.
We can also advise you on the various interconnection possibilities between your Azure Stack Hub and your other Hybrid Cloud environments.
You would like to know more about the solution or get a quote ? Fill in the form below. Our team will get back to you as soon as possible.